Christmas hampers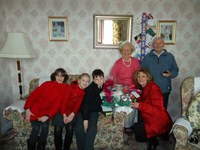 Over the last few weeks Primary 5 have been raising money to help create Christmas hampers.  They made a fantastic amount of money which has allowed them to decide what they would like to include in their hampers, visit Tesco to purchase the goods and put them all together to make a fantastic gift.
Here they are delivering some of their hampers to our very surprised parishioners.
Well done Primary 5!