Primary 5 fundraising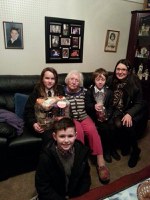 Primary 5 raised a fantastic £546.36 through their fundraising efforts this term.  They managed to create 12 hampers which have been delivered to various members of our Parish.  Since they exceeded their target the children decided they would like to use the rest of the money to buy gifts for children in Dundee through the Tay FM Mission Christmas appeal.
We are very proud of their hard work, dedication and mature attitudes this term!