News
Site News
Please find a copy of our school lunch menu for Autumn/Winter 2015-2016 in the 'School' section above.
Last week an information leaflet went home to parents/carers regarding internet safety.  More information can also be found by downloading the 'Parents and the Internet booklet' from the link below.
http://www.dundeecity.gov.uk/commsafeteam
Please take time to look at these important documents.  More information can also be found in the 'Links' section of our website.
Our yearly calendar has been updated, please make note of the important events coming up.
We have been asked to pass on the following information to all parents...
Calling all dads! Discoverin' Families are launching a new Dads group in Maxwelltown Information Centre on Thursdays from 11.45am to 1.15pm.
There will be plenty of fun indoor and outdoor activities for the kids, as well as loads of family information available for parents.
For more information contact Ricky at Discoverin' Families on 07495 634434 – or come along and try it out!
Our newsletter will be handed out to pupils today.  Please look out for it in their bags.
The newsletter can also be found in the 'School' tab along the top of this website.
Welcome back to our P2-7 pupils, they are all looking well after their 6 week break.
It was lovely to meet all of our new P1 pupils, they are getting on very well.
We have now updated the calendar with some important dates for your diary, please have a look!
Please have a look at our Summer newsletter, some important information for the next few weeks. 
You will find the newsletter in the school tab along the top, then the newsletter folder at the left hand side.
We would like to take this opportunity to thank all of the pupils for their hard work over this academic year, there have been some tremendous achievements!
Our newsletters will be going home in school bags this week, please check pupil's bags as there are some important points to note.
Our school year will finish for the Summer holidays on Friday 3rd July at 12pm.  We wish all children and parents a safe and happy holidays and look forward to welcoming everyone back on Tuesday 18th August at 9am.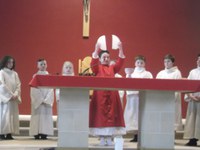 Many thanks to the parents, families and parishioners who joined us on our journey during Holy Week.  Primary 7 gave us a wonderful re-enactment of the Stations of the Cross.
Please click on the links at the left hand side to see some wonderful singing from the re-enactment.