News
Site News
Tesco have asked us to pass on this information.  Offer expires 28th September.
Fantastic news! With Tesco offering a brilliant 25% off clothing why not take this opportunity to stock up on your children's uniform. This 25% discount includes all clothing, footwear and accessories, as well as ALL of the Uniform Embroidery products.
Don't forget, we have bought in a new range of beanie hats in all of our core colours, to keep your little ones warm throughout the cold winter season.
On Friday 26th September 2014 our Primary 7 pupils will be hosting our annual MacMillan Coffee Morning.  All parents/grandparent/family/friends are welcome to come along and help us raise money for a very worthwhile cause.
There will be lots of stalls as well as tea/coffee and a few biscuits available.  We hope to see as many people there as possible.
Entry is £1.00 per person.
Doors open at 9.30am
We have been learning about lots of different grammar and loved creating our similes wall. Our writing is becoming more sophisticated as we ensure we are using VCOP (Vocabulary, Connectives, Openers and Punctuation) alongside self-checking. We have been very enthusiastic when learning about fractions, money and finance. We are improving our skills through playing Heinemann Active Maths games in our class. We have celebrated Our Lady in the month of May and have investigated the Rosary remembering the Mysteries of the Rosary and what these involve. We are celebrating with the children in our class who have successfully prepared for The Holy Sacraments this year with the guidance of Mrs. Lavery. In our topic we are learning about different countries in the world as holiday destinations and linking this to 'The Commonwealth Games 2014.' We are really looking forward to our themed sports day in June. It has been an awesome year!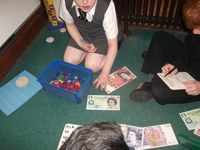 Active maths - working with money
Physical Education P.E. Events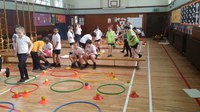 During the lead up to the Summer holidays pupils at SS Peter and Paul enjoy taking advantage of sunny weather by getting outside and using the schools ever expansive array of playground fixtures and equipment.
Indoors Primary 5 have enjoyed building their own games and Cooperative Learning assisted in their designing of 'Crazy Golf' holes.
There is a vast range of Inter-house activities in the planning too and of course our 'Holiday' themed Sports Day this year is looking to be our most enjoyable yet…we hope you are able to come and spectate at this fun filled whole school event!
Running to a Fitter Future…See more Physical Photos in the picture gallery!!
We have updated our calendar - please have a look as there are some important dates in June!
Please remember that all Dundee schools will be closed on the following days:
Friday 23rd May 2014 - In-Service Day
Monday 26th May 2014 - Victoria Day
Schools will re-open on Tuesday 27th May 2014 at 9am.
Please come and join us for our Annual Summer Fayre on Friday 30th May 2014, 6.30-8.30pm.
Entry price: Adults £1 and children 50p
Lots of exciting stalls and fun organised by our Parent Council.
We look forward to seeing you all there!
Please remember all Dundee schools are closed on Monday 5th May 2014.
We will see you all on Tuesday 6th May at 9am.
Enjoy the break!
Advanced notice
There will also be an In-Service day on Friday 23rd May 2014 and schools will be closed on Monday 26th May 2014.  Schools will re-open on Tuesday 27th May at 9am.
Please remember that we are holding 3 non-uniform days to help support our annual school fayre.
The days will be:
Friday 25th April 2014 - donations of toliletries
Friday 2nd May 2014 - donations of bottles
Friday 9th May 2014 - donations of chocolate
Remember the school fayre will be held on Friday 30th May in the evening.
Thank you for your continued support.
Please remember our Commonwealth themed Health Day on Thursday this week.  All children can come along dressed as budding athlete or in their sports gear, ready to join in and keep fit.
Among the many fitness activities there is a wide selection of healthy food tasting and food making sessions from countries within the Commonwealth.  We are looking forward to the many visitors who will be supporting our day.