News
Site News
Today we had a fantastic dress rehearsal for our Upper School show.  The whole school enjoyed the wonderful performances by our shining stars - Primary 6 and 7.
The main shows take place tomorrow, Tuesday 18th and Wednesday 19th March.  Doors open at 6.30pm at St John's High School.  Tickets cost £3.00 per adult and £2.00 per child - please come in to the Ss Peter and Paul's School office before they are all gone!
There will be a slight change to our lunch menu on Thursday 6th March. 
South African Chicken Curry Potjie replaces Chicken&Gravy Pie.
SA Melktert (Milk Tart) replaces Choc Orange Cake.
Our Primary 6 and 7 pupils have been working very hard practising their show - 'Joseph and his Amazing Technicoloured Dream Coat' which will take place in 4 weeks time.  The amount of talent and enthusiasm we have at SS Peter and Paul's is wonderful.  Keep your eyes peeled for tickets which will be available over the next few weeks.
In order to celebrate Burn's Day we have a change to the menu on Friday 24th January 2014. Burns Day Menu: Red - Haggis. Blue- Kilted Sausages. Green - Vegetarian Haggis. Orange - Ham Sandwich. Dessert - ice-cream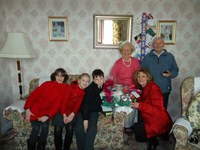 Over the last few weeks Primary 5 have been raising money to help create Christmas hampers.  They made a fantastic amount of money which has allowed them to decide what they would like to include in their hampers, visit Tesco to purchase the goods and put them all together to make a fantastic gift.
Here they are delivering some of their hampers to our very surprised parishioners.
Well done Primary 5!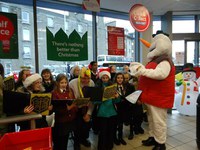 Our choir have been out spreading some Christmas cheer in the local community.  Here they are sharing their Christmas spirit at Tesco, accompanied by some festive friends.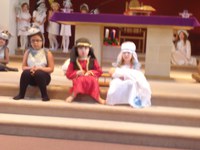 Last week our Primary 1, 2 and 3 children performed the Nativity - "Welcome Little Baby".  The shows were a great success, with fun being had by all.
Our children helped to tell others about the Birth of Jesus, they made sure that Mary and Joseph made it safely to Bethlehem with the help of their donkey.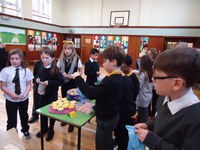 Last week Primary 5 continued their fundraising efforts by hosting a cake and candy stall for all pupils at play time.  Not only did they organise the event, they also produced some fantastic looking (and tasting) cakes.
Well done Primary 5 for all of your hard work, a very worthy cause to be working towards.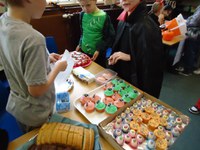 Last week we celebrated Halloween with a fancy dress day.  There were many different costumes, a fabulous effort made by the pupils and parents/carers.
The children had great fun with Halloween themed activities going on in every classroom.  Our Primary 5 classes organised lots of fund raising activities as part of their Enterprise topic.  These included: Guess the skeleton's name, Dracula's Dip, Feed Frankie, Guess the lucky pumpkin and some yummy cake and candy.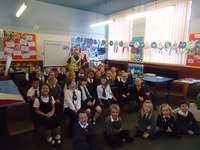 As part of our Health Day we have been learning how to keep safe.  We have had visits from Tayside Police and Community Wardens.  Mrs Derby also organised a fantastic morning of Team Building activities.  Today has been a great success and we now have a better understanding of how to keep safe and who can help us to do this.