News
Site News
We have now added information regarding our return in August to the COVID-19 tab along the top.  Please see up to date letter with details regarding pupils returning to school.  If you have any questions/queries then please get in touch via the school email.  Many thanks.
An important update regarding childcare provisions for key workers.
Dear parent/carer - updated information and new online application live for key worker places from 30 March 2020 in our hubs and with the support of private and third sector providers:
The online form should be completed by 9am on Friday March 27.
Our Family Development worker - Fiona Kelbie offers a parent drop in every Wednesday morning 9-10am.  This is held in St Peter and St Paul's Church hall (behind the church). 
Please feel free to come along if you have anything you would like to discuss with her or are looking for some advice.
St John's High School are holding a Christmas concert on Tuesday 20th December 2016 at 7.00pm.  Tickets are available at the school for a cost of £3.00 per adult, £1.00 per OAP/child.
Payments to Schools
We are currently implementing a system which accepts payments online, using a secure website called ParentPay, for items such as school meals (primary schools only), trips and uniforms.   The ParentPay system is easy to use and offers parents the freedom to make payments by debit or credit card, whenever they like, ensuring that monies reach schools safely and securely.
The system helps to remove the costs associated with having to manage cash securely on school premises and it frees up time to better support the smooth running of the school.   We will of course continue to accept cash and cheque payments as necessary but we do hope that parents will use the new online facility.   The more parents use the service, the greater the benefit to the school, the parents and the pupils alike.
A letter will be issued to you when the system is being implemented in the school.   This will contain more information about the system and your activation code to enable you to set up your ParentPay account ready for the year ahead.
We have been asked to make you aware of the following information:
The National Parent Forum of Scotland has been working with Skills Development Scotland as part of the programme of work underway in Developing the Young Workforce.

We are pleased to have produced some tailored information for parents, as part of our successful "in a nutshell" series, which covers the new Careers Education Standard launched at SLF 2015. This new nutshell will supply parents with basic information about the initial role of this programme in schools and signpost them to where they can get some more information if they need it.

This nutshell has been produced in hard copy with one for each child in primary, secondary and ASN schools and deliveries will start w/c 11-1-16.
The link to the nutshell on the NPFS website is

http://www.npfs.org.uk/career-education-a-world-of-possibilities/
 
Our December Newsletter was issued last week and should have come home in pupil's bags.  A copy of this can now also be found in the 'school' tab at the top under the Newsletter folder.
Primary 6 really enjoyed working with representatives from Dundee Wasps Rugby Team. The children learned the basic passing skills associated with rugby. They then put these new skills to the test as they played a match!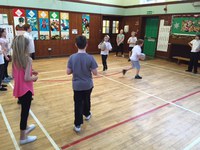 Having fun
Week 1 menu
Week 2 menu
Week 3 menu