News
Site News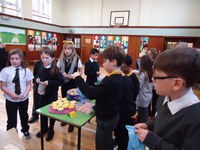 Last week Primary 5 continued their fundraising efforts by hosting a cake and candy stall for all pupils at play time.  Not only did they organise the event, they also produced some fantastic looking (and tasting) cakes.
Well done Primary 5 for all of your hard work, a very worthy cause to be working towards.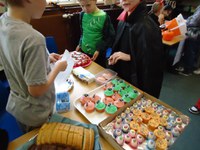 Last week we celebrated Halloween with a fancy dress day.  There were many different costumes, a fabulous effort made by the pupils and parents/carers.
The children had great fun with Halloween themed activities going on in every classroom.  Our Primary 5 classes organised lots of fund raising activities as part of their Enterprise topic.  These included: Guess the skeleton's name, Dracula's Dip, Feed Frankie, Guess the lucky pumpkin and some yummy cake and candy.