News
Site News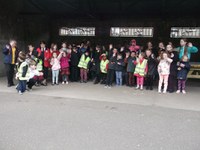 Last week we had a visit from our new Primary 1 2013-2014 intake.  The boys and girls came up to meet their Primary 7 buddy, have a tour of the school and take part in a variety of activities.
Here they are with their buddies at the end of a very exciting morning.
We are looking forward to seeing them all again in the near future!