News
Class News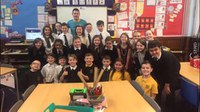 Dan visiting the class.
During Term 2, Primary 6 decided that they would like more technology in the school. They thought about ways in which various technology would help us learn and focused on how Virtual Reality (VR) Headsets would make our learning more personal, creative and enjoyable.

​The children listed many ways in which they could use VR headsets in the classroom however they noticed a problem - the school did not have the phone supplies to do this. Fortunately Primary 6 did not give up - they decided to reach out to various phone companies to try and persude them to donate smart phones to the school.

​Soon after these letters were sent we had a visit from Dan from EE. He donated 8 phones to the school and emphasised how impressed he was by the letters he recieved.

​This project is still undergoing however I am so impressed by Primary 6's strong determination and motivation throughout this project! Well done Primary 6!