Physical Education at SS Peter and Pauls
Physical Education P.E. Events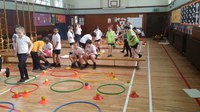 During the lead up to the Summer holidays pupils at SS Peter and Paul enjoy taking advantage of sunny weather by getting outside and using the schools ever expansive array of playground fixtures and equipment.
Indoors Primary 5 have enjoyed building their own games and Cooperative Learning assisted in their designing of 'Crazy Golf' holes.
There is a vast range of Inter-house activities in the planning too and of course our 'Holiday' themed Sports Day this year is looking to be our most enjoyable yet…we hope you are able to come and spectate at this fun filled whole school event!
Running to a Fitter Future…See more Physical Photos in the picture gallery!!