News
Class News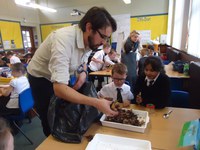 The children all settled back in well to the start of a new school year. They were very excited about now being in Primary 3 and moving to a classroom upstairs !!
Early in the term, they have had the opportunity to participate in a Judo taster session, which everyone enjoyed.
The class topic this term has been "Minibeasts" and the children have been very enthusiastic about this. They have learned about life cycles and the different characteristics of a variety of minibeasts. This topic also allowed the class to enjoy many art and craft activities. As well as making a minibeast of their choice as a homework challenge, in class, we have created caterpillars, butterflies, snails and bees. We also had a visit from Brian and Gillian, from the Countryside Ranger Service, who gave the children lots of information, answered their questions and allowed them to look at and handle some minibeasts. Father Ken also kindly permitted P3a to use the church gardens, to go on a minibeast hunt, which was great fun !!
Also this term, the children have attended cooking sessions, where they made pizzas, which certainly looked and smelled delicious !
Please see gallery for further photographs from Term 1.