Dark is enlightening!
P2a have learned all about "the dark".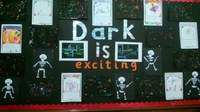 Our dark, dark work!
This terms Primary 2a have been learning all about the dark. We have read some terrific books in which "the dark" is a star feature, including "Funnybones",  "The Owl who was Afraid of the Dark", "Owl Babies" and "Can't you Sleep Little Bear?". 
We have been learning about adjectives and sorted these into "good" and "bad" ways to describe the dark. We used Wordle in IT to create a "Word Picture" of our dark adjectives.
We thought about the fun things which can be done in the dark and learned all about fireworks and bonfire night.
This inspired us to do some writing of our own about how we feel about the dark - is it exciting or scary? Fun or gloomy?  Enchanting or eerie?
In Science we learned about the earth's position in relation to the sun which causes the dark and had fun with our globe and flashlight trying to recreate "night" and "day".