News
Class News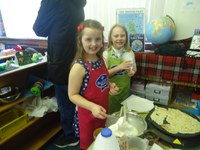 We recently held a French Curricular Afternoon which was enjoyed by all.  The boys and girls were delighted that so many parents/carers and family were able to come along and enjoy the singing, games, activities and learning.  We even managed to make some authentic french crepes!  I think the dulce de leche sauce was the favourite - by a long way.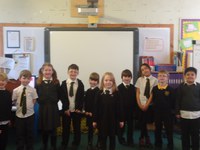 We had a fantastic response from Primary 3 for the Scottish poetry competition with lots of enthusiastic participants.  Mrs Gallacher had a very difficult job to do as judge because the standard was so high.  A massive congratulations to everyone who took part, especially Harley Fox who recited Auld Ma Broon by Moira Cuthbertson to win.
Primary 3 and thoroughly enjoying their new topic this term and are learning lots about Scotland and Scottish culture.  Learning the Circassian Circle and Gay Gordons has been a hoot!  We have also seen a whole new light to The Gruffalo when written in Scots.  The Scottish Poetry Competition has proved very popular and this year with over half of the class taking part.  Well done boys and girls - it's not easy getting up to recite poetry in front of your class mates.  Great effort!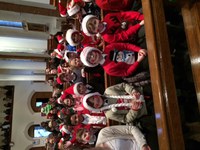 The excitement is building - it's almost showtime!
Primary 3 had some very important roles in the Nativity this year.  Not only did they make up the choir, but some of the children narrated the story, hosted the afternoon and we even had a soloist singer!  Well done to everyone involved it really was a tremendous afternoon.  The boys and girls should be very proud of themselves.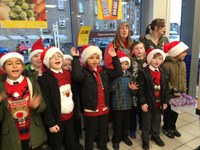 Some of the boys and girls in full flow.
We had a wonderful time entertaining the shoppers in Tesco this week.  We sang songs from the Nativity 'Little Angel Gets Her Wings' and some of our old favourites such as Jingle Bells and Rudolph The Red Nosed Reindeer.  It was lovely to put some Christmas cheer into the hearts of those passing.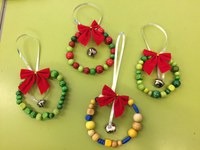 The wooden bead wreaths
The children all worked very hard to prepare lots of Christmas craft to sell.  They had great fun learning new skills and helping each other to create items such as tree decorations, hanging stars, glittering snowflakes, hamma bead fridge magnets and mini wooden bead wreaths.  Thank you so much for supporting this afternoon as the children loved the preparation for it and the afternoon itself.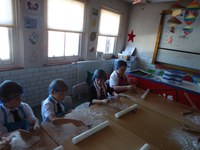 The children would like to say a big 'Thank You' to Mrs Davidson who helped them in cooking sessions to make a yummy pizza.  The children showed lots of skills from measuring, mixing, rolling and designing.  The end results certainly smelled delicious but I wasn't lucky enough to taste any of it.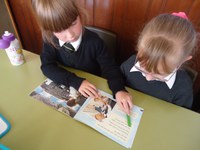 Mrs Robertson is very impressed with her RWI groups.  The children are working well with their partners and trying to read with more fluency and expression.  The children are thoroughly enjoying the stories and relish the opportunity to read aloud!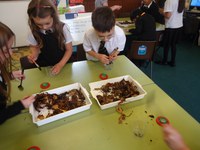 Our topic this term is Minibeasts and the children have been having a great time researching different insects, bugs and spiders (while Mrs Roberston has been hiding behind her desk!).  The highlight of the topic was a visit from Brian and Gillian (Countryside Rangers) who brought along a variety of minibeasts found in Templeton woods - who knew that a purple-backed beetle could move so quickly once it had escaped!  We also loved a walk in Father Ken's garden looking for different types of bugs.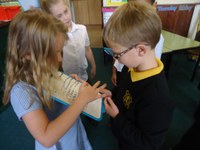 Primary 3b have had a very busy first term and have been engaged in lots of different learning activities.  The children were all very excited about starting back in August and had some excellent ideas for topics this year.  The children got right back into the swing of things and worked co-operatively to write about what we would like our classroom to look like, feel like and sound like.  Primary 3 is a wonderful place to be!