Celebrating Robert Burns and National Identity
In term 3 Primary 5 are celebrating the life and works of Robert Burns and researching the traditional culture and history of Scotland.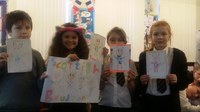 Primary 5 chose Scot's words to name their Cooperative Learning teams.  They used their organisational skills creatively to create name tags, logos and characters collaboratively.